Hiker Stumbles Upon 'Extraordinary' 1,200-Year-Old Viking Sword
Hiker Stumbles Upon 'Extraordinary' 1,200-Year-Old Viking Sword Jade October 30, 2015 News No Comments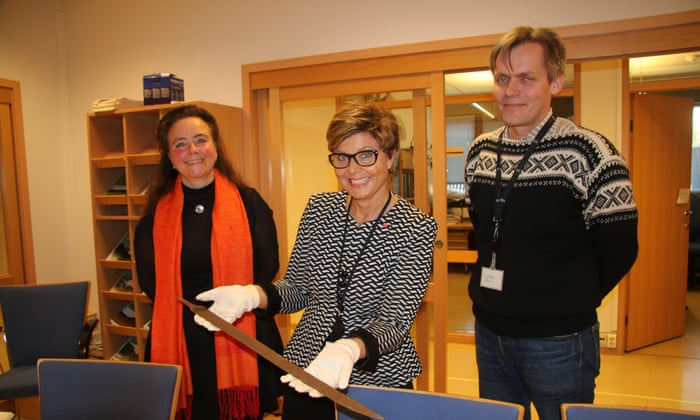 From left, Hordaland County culture director Anna Elisa Tryti, Mayor Anne Gine Hestetun and curator Per Morten Ekerhovd pose with the newly discovered sword. (Photo: Bjarte Brask Eriksen/Hordaland County Council)
During a hike near the mountain village of Haukeli earlier this month, outdoorsman Goran Olsen had stopped for a rest when he noticed a strange object hidden under some rocks. Upon closer inspection, the object turned out to be an ancient Viking sword, which experts estimate to be roughly 1,265 years old. Aside from a little rust and a missing handle, the artifact is surprisingly well-preserved.
The 30-inch (80-centimetre) wrought iron weapon dates "from the beginning of the Viking era, around the end of the eighth century," according to archeologist Jostein Aksdal in the western town of Bergen where the sword will go on display.
"At this time, all the swords were very valuable because it was a weapon for people of high rank," Aksdal told AFP.
"We are really happy that this person found the sword and gave it to us," he said. "It will shed light on our early history. It's a very [important] example of the Viking age."
Wrought-iron arms and armor were expensive, and the sword's owner was probably wealthier or more influential than the average Viking, Professor Alexandra Sanmark, a Viking expert at the University of the Highlands and Islands in Scotland, said.
"Generally if you had a sword, that tends to be a very high-status item," she said.
"The common idea about Vikings was that they wore big, metal helmets, but they probably wore leather helmets. The metal would've gone into making these fabulous weapons, which have more like steel, it's really high quality."
A more thorough study of the site will be carried out next spring when the snow has melted.
The cold dry weather in the mountainous region of southern Norway probably helped to keep the object in good condition.
There, "temperatures remain below zero for six months of the year," Aksdal said.
While climate change has many negative implications for planet Earth, it is proving beneficial to archeologists.
"The melting snow means that a growing number of ancient objects are seeing the light of day," Aksdal said.
Sources: Discovery MNN | The Guardian
Jade
Staff Writer and Social Media Manager for The Open Mind. I am a seeker of knowledge, striving to expand and help others on their quests!
More Posts
Comments:
Related Posts
Arnold Schwarzenegger Intends To Terminate The Illegal Ivory Trade No Comments Jan 12, 2016
Miramir – The Alternative Social Network That's Going To Change Everything No Comments Feb 3, 2016
World's First 3D Printed Castle is Complete – Andrey Rudenko Now to Print a Full-size House No Comments Aug 30, 2014
Nestle Continues Stealing World's Water During Drought No Comments Aug 26, 2015