Severe Warning Issued over Potentially Deadly Red Sun
Shockingly, the clouds of Saharan dust that landed on the U.K. as a result of Hurricane Ophelia could be extremely dangerous to human beings on the ground—particularly if they already suffer from breathing difficulties. In fact, Asthma UK has even issued advisories instructing asthma sufferers to avoid inhaling the dust at virtually all costs.
In response to these developments, Head of Asthma U.K.'s Helpline Sonia Munde says that, "We are deeply concerned about the toxic air from Saharan dust that Hurricane Ophelia has churned up, as this could pose a severe risk for the 5.4 million people in the UK who have asthma. Winds picking up dust and particles in the air could trigger potentially fatal asthma attacks. When a similar dust storm happened in April 2014, Asthma UK found a third of people told us they'd had an asthma attack as a result of the pollution and 84 per cent said they had used their blue inhaler more than usual. We urge anyone with severe asthma to check weather forecasts and stay indoors where possible. Everyone with asthma must make sure they take their reliever inhaler [usually blue] everywhere with them and continue to manage their asthma with their preventer inhaler [usually brown]."
Even those these circumstances are serious, the west of Ireland will be impacted to an even greater extent than the United Kingdom. It's difficult to imagine what Irish skies will look like considering how apocalyptic the skies in the U.K. appear to be.
Dr. Dave Reynolds from the Weather Channel describes the scenario in more detail: "Winds were strong over Iberia on Sunday, which has resulted in dust from there being raised and then blow to the UK on a strong south to south-westerly flow. Some of the dust may be particulates from the fires, although I think regular fine-grained dust would account for the majority. This is a result of Ophelia to the west of Portugal (on Sunday) and high pressure over the western Mediterranean, although it doesn't necessarily need a hurricane to do this (a regular, north Atlantic low would be just as good – so long as all the other conditions are met).
Furthermore, and importantly, the cold front of Ophelia moved across southern Britain this morning and was very weak – this meant there was not much rain to wash the dust out. The winds are still southerly, despite the cold front coming through. Usually winds would veer and fresher (=clearer) Atlantic air would come in behind a cold front – but this won't happen until later today. As fresher air moves in later today, expect the colouration to gradually fade."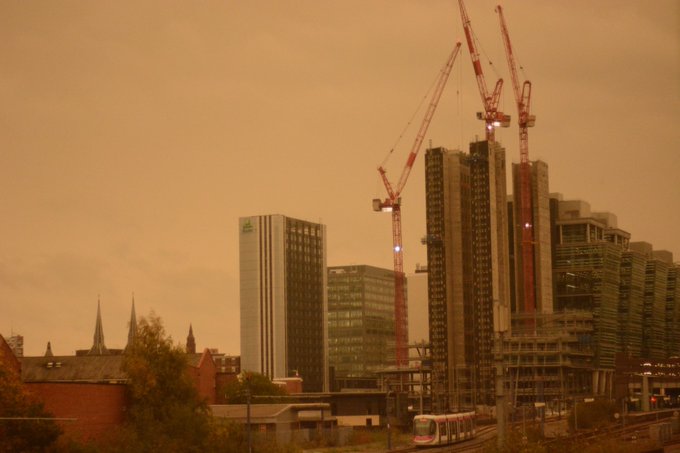 View image on Twitter. Dr Dan Shepperd @dan_shepperd writes: "Orange sky over Birmingham from Sahara sand picked up by storm #Ophelia #endoftheworld @BrumTweets @MyJQ@ichoosemag @birminghammail**
It's fascinating to think that this dust has been blown all the way from Africa by Hurricane Ophelia, and that it is the cause of the apocalyptic orange hue. However, Ophelia could strike the U.K. within days, so circumstances could become significantly more serious yet. Already, amber wind warnings have been posted in portions of Ireland, Scotland, and Wales; additionally, yellow warnings have been issued in the south-west and the north-west of England.
*This content was inspired by an amazing article that can be found here.